MEDIUM AND HIGH POWER INDUSTRIAL LASERS
Lasers for precision metal cleaning, polishing, surface development
---
Laser power 200 W
Maximum pulse energy 1 mJ
Frequency from 20 kHz to 200 kHz
Pulse duration from 30 ns to 240 ns
Fibre optic length 8 m
System weight 60 kg
Power 230 V
Compact and mobile housing
Source life above 100 000h
Liquid cooling
Laser class 4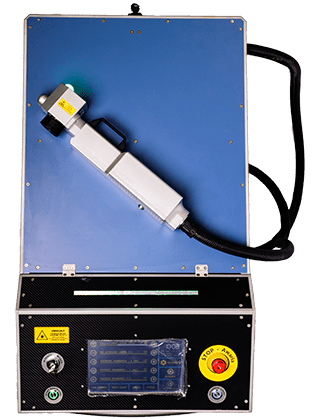 ---
Laser power 300 W
Maximum pulse energy 1 mJ
Frequency from 20 kHz to 2000 kHz
Pulse duration from 30 ns to 240 ns
Fibre optic length 8 m
System weight 60 kg
Power 230 V
Compact and mobile housing
Source life above 100 000h
Liquid cooling
Laser class 4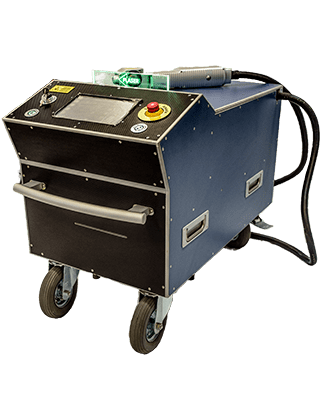 Lasers for rust removal, paint removal, stone cleaning
---
Laser power 200 W
Maximum pulse energy 10 mJ
Frequency from 2 kHz to 200 kHz
Pulse duration from 30 ns to 240 ns
Fibre optic length 3 m
System weight 60 kg
Power 230 V
Compact and mobile housing
Source life above 100 000h
Liquid cooling
Laser class 4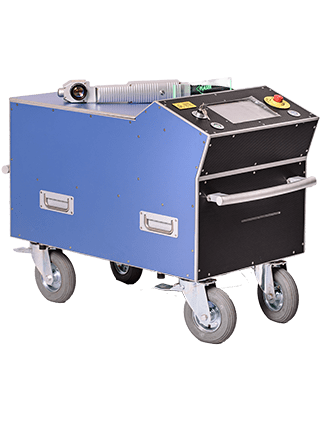 ---
Laser power 300 W
Maximum pulse energy 10 mJ
Frequency from 3 kHz to 300 kHz
Pulse duration from 30 ns to 240 ns
Fibre optic length 3 m
System weight 70 kg
Power 230 V
Compact and mobile housing
Source life above 100 000h
Liquid cooling
Laser class 4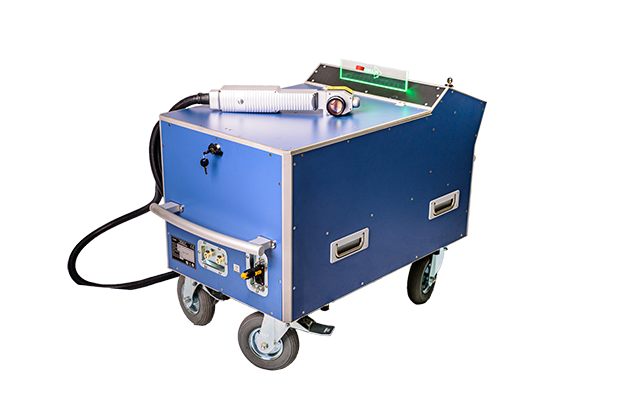 ---
Laser power 500 W
Maximum pulse energy 100 mJ
Frequency from 2 kHz to 50 kHz
Pulse duration from 25 ns to 100 ns
Fibre optic length from 10 m to 50 m
System weight 120 kg
Power 230 V
Compact and mobile housing
Source life above 100 000h
Liquid cooling
Laser class 4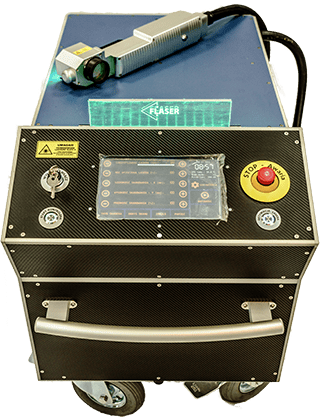 The medium and high power systems that we manufacture are lasers based on fibre-optic sources from IPG Photonics.
These units enable cleaning and removing various types of coatings efficiently, yet gently, without the risk of damaging the material. Each unit provides high performance and reliability and is almost maintenance-free. Easy to install, operate and automate, with no need for chemicals, additional media or pre-treatment.
We recommend selecting the pulse energy and source characteristics for each application separately. The lifetime of the source is about 100,000 h – we use the highest-quality components only from trusted companies, mainly European, as quick access and availability of service parts is of great importance to us. We offer service and technical support throughout the laser's lifetime. Our devices are equipped with unique software developed by us to control the laser's working parameters. It is software dedicated to our lasers. The program is available in Polish and English.